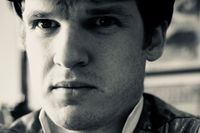 The last few years have been kinda crazy, moving back to the mid-west from Florida, finding work in the most obscure places and finding my voice as an artist again.
It is 4:25 am as I sit here typing my thoughts, and I am wide awake mulling over the last 3 years of life and making notes and plans. 
One thing I'm learning is to write down goals, instead of just keeping mental volumes locked away in my head somewhere, I'm finding I hit goal a lot faster if there's a notebook on my desk telling me what to shoot for this week.
Sometimes the goals are small and simple. Sometimes I feel like I'm shooting way out of my range! But writing them down in front of me and actually having to check them off the list has been great for keeping me focused. W
What about you, what season are you in? What keeps you focused?
Caleb.