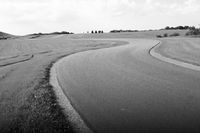 There's a myth that seems to always be around, that people on Instagram don't have dirty dishes stacked in little piles out of frame, and that coffee shop acts always play to a full house. That opening acts just got a message that tickets are selling fast to that show downtown with that band, you know... The one we've never heard of?
Fact is I think piracy and copyright infringement is not nearly a threat to artists these days, but obscurity is! I can recall shows where I put everything on the line, did radio interviews and sponsored social media posts, plastered posters all over town and still only played to 6 people!
Instead of being angry that millions of people don't seem to grasp onto your art and worship at your alter of BS, how about adoring the few that do get what you're putting out? 
Do great work, spread great love and see what happens. 
Caleb.